The Importance Of Defining Standard Definitions In The Hearth Industry.
Why is this important for your website and communicating with your customers?
Communication is key when defining the various types, styles and fuels of hearth appliances. You can ask 10 different dealers and get 10 different descriptions for a "Contemporary" fireplace. So how can you create consistency on your website as well as with your customer? Here are some tips from a web developer's perspective who has designed and developed multiple websites for Hearth Dealers…
For example, "Contemporary" and "Traditional" are the two descriptors of hearth appliances retail sales associates tend to use to describe fireplace when referencing "style". When browsing the manufacturer's catalog, it seems that there are various shapes, sizes and types of contemporary fireplaces, however, only a few shapes, sizes and types of traditional fireplaces and stoves. Each manufacturer defines these styles for their models a little differently. Determining what a Homeowner (or customer) defines as "Contemporary" or "Traditional" helps the sales person to understand which model of fireplace to choose from the Manufacturer as the best option for their customer. 
Also, certain combinations of types of fireplaces that homeowners use (as well as some websites) do not match or even exist in the industry. For instance, an "Electric Traditional Fireplace" or if we combined the terms Gas Log Set to Traditional Fireplace, this is not the same as the definition of a "Traditional Gas Fireplace."
When it comes to the various parts of a hearth appliance, different definitions for the purpose of a part when building a fireplace can have different meanings as well. For example: a "Fireback" and a "Refractory Liner." A Fireback is a sort of accessory that can be added to most fireplaces, and therefore would not have the same exact functionality as a Refractory Liner that is built into the fireplace. They can help to do a similar sort of function (ie. dissipate heat from the back of the fireplace), although very minimal in the case of a fireback. 
The process of defining these standard definitions is difficult in the industry because every manufacturer and retailers has their own ways of defining a hearth appliance's style, and parts. However, when creating a website for homeowners who look to you – their sales expert – for direction and translation, be sure to know the difference and clarify your definitions in layman's terms so your sales team and the homeowner are on the same page when it comes to managing expectations of their project while referencing your website.
Stay tuned to learn how these definitions allow AI to help both dealers and manufacturers. Click the contact us button below to learn more.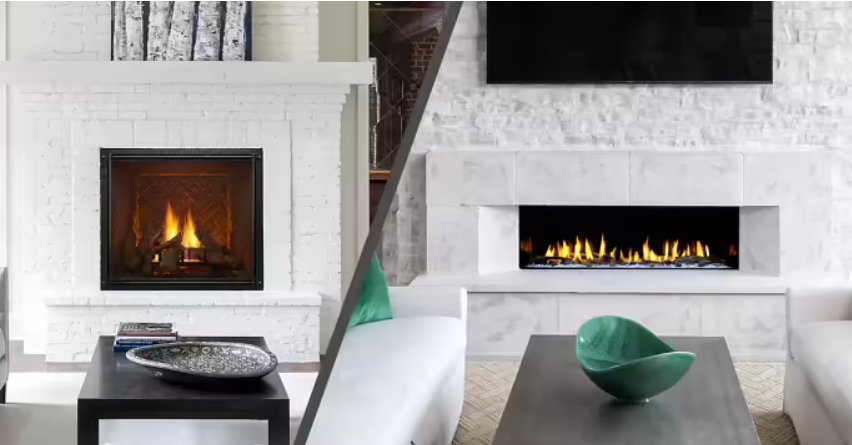 "Side-by-side images of traditional gas fireplace in white-washed brick and modern linear gas fireplace with white marble hearth and painted brick". Heat & Glo, https://www.heatnglo.com/ideas/traditional-or-modern-fireplace-how-we-chose, 03/28/2023.